Bio-decontamination service
Thanks to its know-how and reputation, Devea has naturally been asked by its customers to assist them with their disinfection service provision needs.
Remodeling? Zone clean-up? An urgent or occasional need? Devea Services teams will be available to prepare with you and then carry out the surface disinfection service.
According to your specifications and the plans, the technical teams will first evaluate with you the protocol and the Phileas® devices the most adapted to your needs. Then, after an on-site visit, they will validate the final documentation with you.
On the D day, the service includes the installation of the Phileas® devices, the disinfectant canisters, the chemical and/or biological indicators, as well as the culture and the reading of the BI. The final report is sent to you a few days after final reading of the indicators. Efficiency 4 log₁₀, 5 log₁₀ or 6 log₁₀ according to your specifications guaranteed!
Reactivity and customer satisfaction are at the heart of our activity. Don't hesitate to ask us to study your project! To see what our customers say, click here.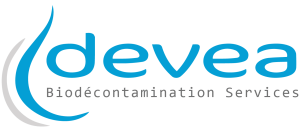 Why choose Devea Biodecontamination Services for your disinfection services?
a validated Airborne Surface Disinfection technology (original Market Authorisation FR-2019-0071)
results in ultra-clean environments, grade A / B / C or D
teams trained to operate in classified areas
transparent methodology and professional project management
flexible and energy-efficient implementation
Devea Biodecontamination Services teams perform disinfection service provision mostly in France or close to France. Feel free to contact us for any tailored project.